IDENTIFICATION INFORMATION ON GLASS PRODUCTS !
Check out our Tempered Glass Logos or our Insulating Glass Spacers.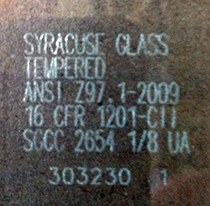 Many of our products have three numbers – the order number, line number, and piece number.  This permanent label is applied by a laser, with unique identification information from our powerful FENEVISION software. 
With this information, one can determine the exact size, exact glass make-up, the delivery date, or pricing - either by contacting our office, or from our website directly – even at a job site using a smart phone!
**************************
TEMPERED GLASS THAT REFLECTS WELL ON YOU!

Our new state-of-the-art Glaston FC-500 tempering furnace makes the flattest, best looking tempered glass available anywhere! We are the second glass fabricator in the nation to install this new technology.

In addition to the full convection and precise computer controls engineered into this furnace by industry leader Glaston of Finland, we've added a Lite Sentry optical distortion measurement scanner. Each piece we produce is photographed and evaluated for deviation from flatness on line, in real time, and the results are immediately displayed for our furnace operators.

As a result, we can fine tune the furnace settings, and produce very flat tempered glass, even glass with high performance solar control low emissivity coatings, which are very challenging to heat evenly because of the way the coatings reflect heat energy.
We're serious about producing high quality tempered glass. In 2002, Syracuse Glass bought a UNIGLASS full convection tempering furnace, the second in the US, and the first full convection furnace in our market area, and now also featuring a Lite Sentry scanning device. We continue to invest and improve our processes to maintain the quality advantage that we've earned over the years.
**************************
ADVANCE SHIPPING NOTICES AVAILABLE
Advance Shipping Notices are available, by email or by fax, to notify you immediately after our truck is loaded the night prior to delivery, of all the materials to expect on the truck.
Phone or email Rick Pulver in our office at extension 52 or rpulver@syracuseglass.com if you'd like to be enrolled in this program.