Industries We Serve
Syracuse Glass sells architectural glass and aluminum products to:
| | |
| --- | --- |
| . | Glass Shops and Home Improvement Contractors |
| . | Commercial Glazing Contractors |
| . | Select window, furniture or equipment manufacturers |
| . | We are a supplier of Division 8 construction materials. We do not provide glazing services |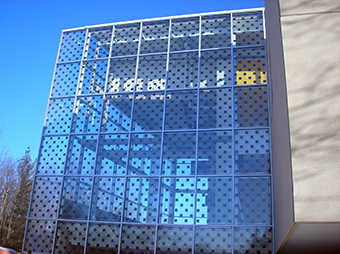 Insulating Glass With Photovoltaic Panels Using UltraClear Tempered Glass!
Focus on the Customer
Syracuse Glass has grown substantially since its founding in 1909. But at our core, we are still a family-owned, independent distributor and fabricator. The longevity and success of our business is built on repeat business from satisfied customers and design professionals. Our customer relationships span decades and generations! We try to improve these valued relationships day in and day out, job after job, year after year by being responsive, helpful, honest and accountable.

Everyone at Syracuse Glass, including management, sales personnel, customer service representatives, estimators, fabricators, administrative staff and truck drivers are committed to treating our customers with courtesy and respect. We know our customers by name, not by account number.


Architectural Support

Syracuse Glass supports the syracuse CSI chapter. In addition to helping design professionals evaluate glass and aluminum design choices, we provide samples, plant tours, and AIA learning unit classes

How Fast is Fast? The Truck's Here!

Syracuse Glass is the service leader from Dunkirk to Delmar, and from Malone to Monticello. Our lead times are frequently the best you will find. We sustain an intensive delivery schedule by keeping our 12 transports on the road. Field measured items and job-site breakage are more easily and inexpensively obtained from Syracuse Glass than from remote companies that focus primarily on large projects
The majority of our trucks have tarp covered racks designed to transport glass cleanly in upstate New York weather conditions.
We're also proud that our trucks are red on the outside, but green on the inside! Our truck bodies are aluminum rather than steel. The trucks have on-board computers that help our drivers save fuel, govern speed and gear selection, reduce idling and track fuel usage.

A Company with Heart
The James Dwyer Jr. Memorial fund, a part of the CNY Community Foundation, was established in September 1998 at the time of Jim's sudden and unexpected death from cardiac arrest. Initially, the fund purchased and sponsored training for Automatic External Defibrillators (AED's) for many public gathering places. Currently this donor-advised fund endows an annual scholarship at Corcoron High School and supports many worthwhile community efforts. Syracuse Glass profits provide a good share of the fund's resources.


Affiliations & Certifications
Syracuse Glass is an involved member of the Glass Association of North America (GANA), the National Glass Association (NGA), the Construction Specifiers Institute (CSI), the Syracuse Builders Exchange, Subcontractors Association of Central New York (SACNY), and the Manufacturing Association of Central New York (MACNY).

Additionally Syracuse Glass is :
A Guardian Industries Sunguard select advanced architectural glass certified fabricator.
A licensee in the Safety Glazing Certification Council (SGCC) and Insulating Glass Certification Council (IGCC)
A Vitrto/PPG Authorized supplier of Solarban 60 Solar Control Coated Glass
A licensed Tubelite Door fabricator.
A C.R. Laurence all-glass door and shower door fabricator.
A Schott Pyran Fire Rated Glazing materials supplier.
A certified factory fabricator of Opaci-Coat 300.
An underwriters laboratories (UL) authorized labeler of fire rated glazing materials